EcoSmart Pools By Dolphin Pools
Dolphin Pools is the original "GREEN" ECOsmart pool builder in Phoenix, combining the best equipment, low maintenance features, low waste and low energy use, long lasting products into one complete and incredible pool package. This will save you thousands over the life of your pool, and give you a return on your investment month after month year after year. Contact Dolphin Pools today and find out how and why we are making a big splash in the industry.
EcoSmart Base Package
$37,775.00 + TAX AND PERMITS
PACKAGE SPECIFICATIONS
-Pool Design – Any Shape
-Pool Size – up to 75' perimeter
-Surface Area – up to 350 Sqft
-Depths 3' x 5' x 3' or 3' x 5'
-(1) 6' Loveseat and 24' Steps and Benches
-Engineered Construction Plans
-Professional Layout
-Public Liability Insurance
-Negligent Property Damage Insurance
-Workman's Compensation Insurance
-Advanced Energy Saving Designs & Systems
-SAVE money every month… year after year…
EXCAVATION
-Standard Backhoe Excavation
-Vertical Wall and flat floor Excavations
-(Narrow Access, Unusual Soil Conditions, Hard Digs and Caliche Will Result in Added Expense)
-Soil Removed the Same Day of Excavation
-Quality Hand contouring and forming
ELECTRICAL
-20' – Pool Light conduit run
-50' – ½ "Electrical conduit
-Universal Color Logic L/V LED White
DECKING
-300 SQFT of Deck with Acrylic Lace Overlay
-Standard Choice of Colors of Decking
TILE
-A-Grade Tile Selection for Waterline Tile
STEEL SCHEDULE
-Industry Leading 5-Bar Bond Beam (5) #3s
-70% MORE Steel in Bond Beam than Our Competitors
PLUMBING
-Hydraulically Engineered Design
-(Completely Pressure Tested During Construction)
-Schedule 40 N.S.F. Approved PVC
-2.5" Plumbing Run to Main Drain
-Skimmer and Main Drain Plumbed Separately
-Automatic Water Leveler with 40' Run
–Separate Pool Vac Plumbing 25' Run
-Dual Safety Drains with Anti-Vortex Safety Covers
-(4) Adjustable Looped Surface Returns
-Worlds most advanced skimmer (ECO-Skim)
-NO Heat bent plumbing EVER…
SHOTCRETE
-6" Minimum Thickness Walls and Floors
-8"-10" thick in Coves, Stress Areas, Benches and Steps
-Up to 24' of Steps
-6' Bench/Loveseat
-Limited Lifetime Structural Warranty
ECO-EQUIPMENT
-Highly Efficient "QUIK-Skim" Skimmer
-Energy Saving "TRISTAR" Circulation Pump
-Time Saving Automation 24 hr Time Clock
-Water Saving 330 SQFT Hayward Cartridge Filter
-Efficient Hayward Automatic Pool Vac
-3-Way Adjustable Valves for Skimmer/Main Drain

CLEAN-UP
-Complete Construction Debris Clean-Up

INTERIOR FINISH
-'Ultra Poz" Interior Finish (7-Year Warranty)
START-UP
-Dolphin Pools' Pool School
-Start-Up Chemicals
Contact Us
If you have questions about your new Backyard Project, or would like to schedule a no obligation, one-on-one consultation with one of our designers, please call us at (602) 569-6336 or fill out the webform below.
OUR WORK
Some Of Our Projects
ECO-Smart Pool Packages From Dolphin Pools
Love spending time in the great outdoors, but want a swimming pool that is not only beautiful but eco-friendly? With recent innovations in pool technology, we have created two "green" packages that will not only look beautiful but save you money.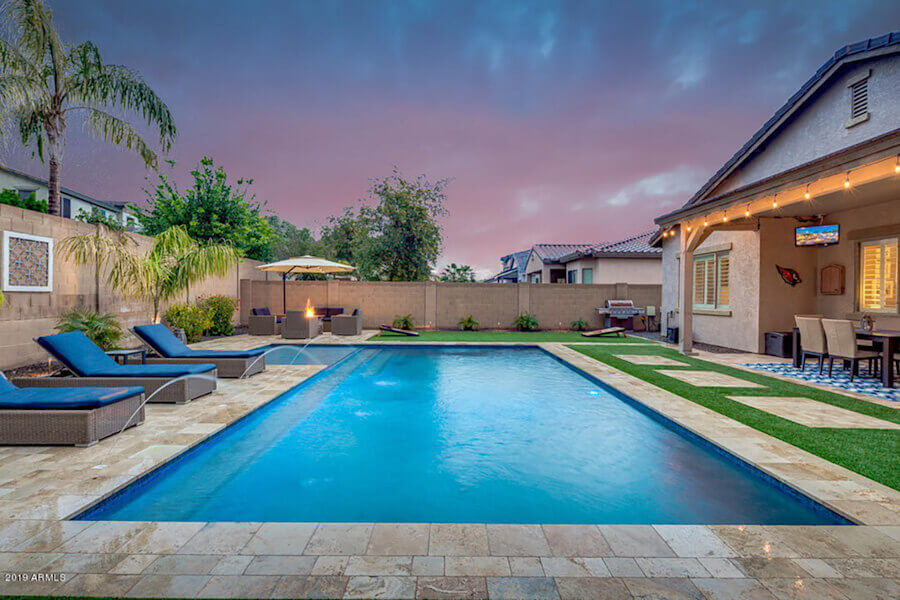 Schedule Your Free Consultation with a Dolphin Pool Designer
If you would like to schedule a consultation with a member of our expert pool design team, or if you would like more information regarding new pool construction, water features or outdoor living spaces from Dolphin Pools, please feel free to contact us directly by calling (602) 569-6336, or complete the form below.
Showroom Hours: Monday-Saturday 9am - 5pm
Dolphin Pools
20635 N Cave Creek Rd, #A3
Phoenix, AZ 85024