See What Our Customers Say About Us
It's important to us that our customers are happy with their purchase and their experience with us. Some go so far as to say nice things about us, too.
"Professionalism, Punctuality, Quality, Responsiveness, Value, Dolphin Pools made building our first pool such a pleasurable experience. Jake our pool superintendent was checking everything each step of the way making sure the quality was nothing less than perfect. This is such a reputable company for good reason!"
"Thank you Dolphin Pools for my beautiful backyard. It was a great experience. My designer had great suggestions and my construction superintendent was very responsive and on schedule. I would highly recommend the in-floor cleaning system as it makes cleaning a breeze. The travertine, Blvd Lite, was a nice touch of elegance around the pool and patio, as was the turf they installed. Even the inspector was impressed and said Dolphin Pools makes a great pool! I highly recommend. And yes they have very competitive prices!"
"We are five years in, the pool has been GREAT!! Great design, an upgraded transformation of our property. A wonderful centerpiece for entertaining.
If anyone tells you a pool doesn't add value they are just flat out wrong….
Dolphin has stood behind their product from the beginning and addressed our concerns in a timely manner. High-quality pool equipment with low maintenance.
We would highly recommend to anyone considering a pool, to sit down with Dolphin before committing to another builder…"
"We are very happy with our pool. Everyone at Dolphin Pools was very professional and easy to work with from start to finish! We got to exactly what was promised. I would highly recommend them!!
"We moved to Arizona and couldn't find a house we liked with a pool in our price range. So we got to build our own and Dolphin Pools did a fantastic job putting in our pool and at a price that was the lowest in a detailed bid process. Some companies didn't even call back. We got a brand new pool with the latest technology and for a better deal than buying a home with an existing pool. The team was easy to work with, they were very helpful in explaining everything along the whole timeline and we have a high quality and new pool now in our backyard. Would recommend them highly to anyone building a pool."
"Just had our pool completed and the entire process was much faster than anticipated. We were not pressured to upgrade from the package we desired, which was refreshing. All the trades were very skilled and efficient. We love our Pool."
"We had a pool installed by dolphin pools January 2014. Everything went great. All of the staff was available anytime for questions, the subcontractors were professional, arrived on time and exceeded our expectations. Each phase of the process went smoothly.We are extremely happy with our pool and the experience of working with Dolphin pools."
"We are working with dolphin pools, so far everything is working out right on schedule. The office is always available for questions which are handled promptly, we are very happy we choose them to install our pool."
"They built our dream swimming pool and backyard all within our budget!
My husband and I walked into Dolphin Pools show room and were introduced to our salesman. You could see immediately that he enjoyed his job and believed in the company he was working for. From the start he listened to what was important to us.
When the pool building process started, one thing Dolphin Pools does very well is set the expectation. We had never done this before and I felt like they held our hand the whole way. We received weekly emails of updates on what was happing this week, etc. Always knowing things are subject to change if necessary, however everything seemed to go according to plan. In fact, they finished our pool one week ahead of scheduling and all within our budget! Dolphin Pools is a quality company that delivers a quality product at a competitive price. I would definitely recommend them and would not go anywhere else in the future!"
"Your staff is amazing. We had many questions about this pool project due to some unique circumstances. Our Salesman was a true professional and we dealt with the office staff and construction super many times. In every case we were handled with great respect and communicated with regularly. Debbie and Barb were great! We have been in construction for many years and understand that situations arise and things pop up. I just wanted to express my sincere thanks for being an organization of integrity. We know why you have been in business for 30 years, its because you care and you treat people fair. Good luck, you all simply deserve it."
"Dolphin Pools is awesome! We couldn't be happier with the finished product and the exceptional service. My kids are in the pool everyday. This is one of the best things I have done for our family. Thank you."
"I have had the pleasure of having two pools built by Dolphin. We were kept 'in the loop' during each build, with everything being completed on schedule. Whenever I call the office, a person answers(!), and I am treated politely, with my questions being answered quickly and professionally. It has been such a pleasure doing business with a company that operates the old-fashioned way, with mutual respect and pride in workmanship. The staff at Dolphin listens to what YOU want, giving us a pool both times that was beyond our expectations. I have recommended Dolphin Pools to my friends, as a company that is dependable and a pleasure with which to do business."
"After getting 5 estimates we decided to get just one more as we were getting a little confused and frustrated. That final estimate came from Dolphin Pools and proved the most productive and educational. Is was worth the extra time to have them come out and we are so pleased with our Dolphin Pool. Our advice, get a couple bids and then have Dolphin Pools come out, you will be glad you did. Thank You Dolphin Pools!"
"Our salesman, did an incredible job turning my vision into the perfect desert oasis. It turned out even better than I could have imagined! Even with some unavoidable delays due to the Covid pandemic and high worker demand, Dolphin's staff worked hard to coordinate the crews to ensure that our pool was finished in time for our grandkids to enjoy our pool during their visit to Arizona. After the pool was built, Dolphin did a great job showing us how to use the equipment and promptly fixed all minor problems.  I highly recommend Dolphin Pool Construction!"
"Wanted to thank you all again for a great experience and the product is awesome!!  I have given your information out several times and have shared on social media."
"Dolphin Pools have been great for us. They were very professional and went above and beyond to make us happy. The pool itself was a great value for the price . We love our pool and we would definitely use them again should we ever have to build another pool ever."
"My husband and I decided we wanted to get a pool around December and my brother told us he had nothing but good things when dolphin did his pool, we contacted them for a quote and they were everything my brother raved about. They were professional, answered all of our questions and made the long tedious process bearable! I highly recommend you call them as soon as you decide you want a pool!"
"We chose Dolphin Pools because, of the three that we interviewed, they were the only one that listened to us and designed the pool that we wanted. They were all professional, from Kimble, our sales person, to Dave, our Superintendent and all the office personnel. We had contact all along the way so we knew who was coming and when. We highly recommend you contact Dolphin Pools for a quote."
"My wife and I moved to Arizona to purchase a home and blend in to the landscape in a nice neighborhood, part of all of this was to interview pool companies and to choose the one that we felt would build us the quality pool we have dreamed about for years, After four so called interviews we chose the Pool Contractor that demonstrated a deep concern for our wants and dreams. The team all got together with a professional presentation and presented to Janet and I. The thing that impressed us the most was the questions and concerns to make sure they all understood exactly what we expected during and after the project was all complete. We first want to congratulate the entire staff at Dolphin Pools. The team at Dolphin Pools strive to do things right, Their service, packaged pricing, and their years of experience will all fit anyone that is shopping for their Dream Back Yard Pool."
"Dolphin Pools – More than just a company that "builds a pool and says "enjoy"! This has been such a great experience in the entire process. My wife and I met many of the sales staff at a Home and Garden a few years ago, including Kimble, who became our sales consultant for the pool/deck design. We live in central Arizona and it's not always easy getting to the valley efficiently, so Kimble was more than kind to come to our location to work on design. Showed an amazing 3D rendering, print out pages needed, and designed with our assistance too! Price was better than any of the other 2 or 3 pool companies that we also considered…and we got a LOT more! Les, Melanie, Barb and Tanya were all wonderful in assisting through entire project."
"Dolphin pools designed and built our pool this year they were very professional and prompt. The pool was completed on schedule. I would say they have great communication skills. They are great to work with. Can't wait for coming summers and go swimming. Thanks to the Dolphin Team!!!"
"Dolphin Pools were more than we could have ever expected. Their prices were great; their engineer & construction crews were pleasant, professional and prompt! Their business staff was pleasant, knowledgeable, friendly and so helpful, too! We would give them a 10+ on a scale of 1-10. Highly recommend them and most certainly appreciate their work!!!"
"We hired Dolphin Pools to design a pool for our backyard in April 2013. From sales to service, the people at Dolphin pools were absolutely amazing. Our sales representative created an affordable unique design for our pool and went over all of the options for equipment and interior finish. The process was very smooth. Our pool was ready to swim in 5 weeks. Each step of the process was very smooth and we were always informed. The back office staffs that coordinate all of the different steps were phenomenal. Even after the pool was completed, there were a few odds and ends that needed to be fixed. The service staff was prompt and completed these tasks. We have recommended Dolphin Pools to several people. We had an amazing experience."
"Seems crazy that anyone would buy anything less than an ECO-smart Pool. Our pool was completed in April and has been a breeze to maintain and care for. Our neighbors saved a little money, but they are sure regretting their decision now. Thank you Dolphin Pools for explaining everything to us in such great and understandable detail. We also appreciate all the time you spent on getting this just right for us. Dolphin Pools ROCKS!"
"Thank you for our Dolphin Pool we love it! Great service, communication and product. We will be referring much business to you guys."
"We would like to thank Adam for doing such a nice job on our design. We love the 3D drawings and the suggestions Adam and Dolphin Pools had for our backyard retreat, it all looks wonderful. Thank You"
"We built our pool with Dolphin Pools many years ago and when it was time to update it and install near more energy efficient equipment we called Dolphin back. Thom Andreozzi was excellent to work with and our updated pool looks great and is easier to maintain then before just like he said it would be."
Contact Us
If you have questions about your new Backyard Project, or would like to schedule a no obligation, one-on-one consultation with one of our designers, please call us at (602) 569-6336 or fill out the webform below.
OUR WORK
Some Of Our Projects
ECO-Smart Pool Packages From Dolphin Pools
Love spending time in the great outdoors, but want a swimming pool that is not only beautiful but eco-friendly? With recent innovations in pool technology, we have created two "green" packages that will not only look beautiful but save you money. We are your go to for Arizona pool companies.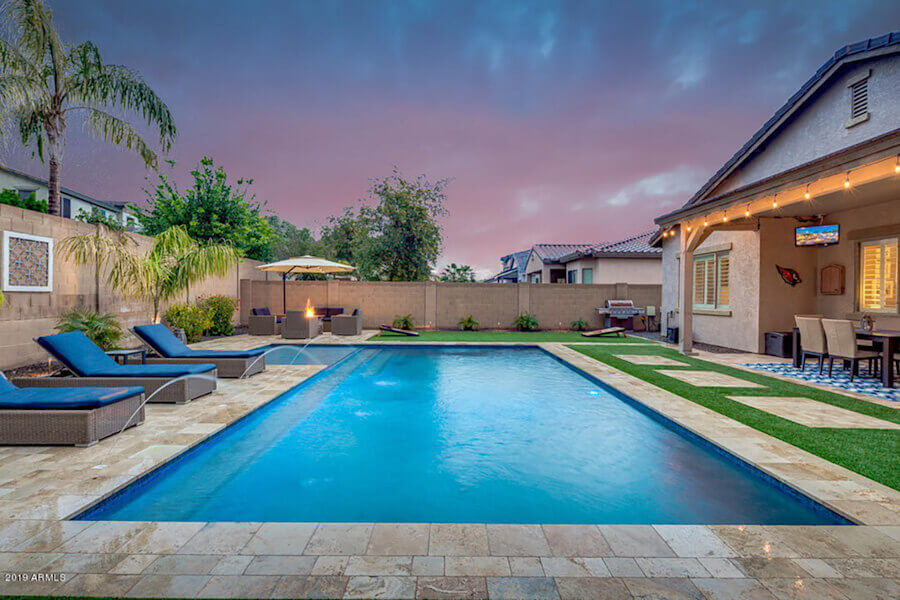 Schedule Your Free Consultation with a Dolphin Pool Designer
If you would like to schedule a consultation with a member of our expert pool design team, or if you would like more information regarding new pool construction, water features or outdoor living spaces from Dolphin Pools, please feel free to contact us directly by calling (602) 569-6336, or complete the form below.
Showroom Hours: Monday-Saturday 9am - 5pm
Dolphin Pools
20635 N Cave Creek Rd, #A3
Phoenix, AZ 85024