In-Floor Circulation & Cleaning Systems
Magna-Sweep Dealer
"Official A & A Magna Sweep Dealer" Call for details on the most advanced pool cleaning system on the planet with the exclusive and patented QuickSkim system… Dolphin Pools is committed to using the very best equipment and elevating the standards in the pool construction in all we do, as well as enhancing your ownership experience and saving you money day after day, year after year…
As one of Arizona's oldest and most reputable pool builders, we've built our reputation with experience, uncompromising quality, and leadership. Our design and construction staff has collectively over 400 years of experience in designing and building the finest pools. We've proudly served Phoenix and Surrounding Valley since 1984 in many areas such as Avondale, Carefree, Paradise Valley, Buckeye, Queen Creek, Goodyear, Fountain Hills, El Mirage, Litchfield Park, Phoenix, Scottsdale, Cave Creek, Glendale, Peoria, Surprise, Tempe, Gilbert, Chandler, Mesa, Arizona
Automatic, Silent, Systematic, Programmed Cleaning
The virtually invisible Gamma 3TM cleaning heads are built-in flush throughout the floor & steps, of your pool and spa. MagnaSweep's venturi-powered head design draws in more water than standard cleaning heads. This gives added flow power to give your pool superior cleaning strength and capability at no extra cost. The A&A Water Actuated Valve directs water to a set of cleaning heads that pop-up and send a stream of filtered, treated water across the floor and walls of your pool. This action sweeps dirt and debris into suspension to be removed though the pool skimmer and the PDRTM (Powerful Debris Removal) or AVSC Drains to the filter. The A&A Water Actuated Valve will automatically rotate through each set of cleaning of cleaning heads approximately every 60 seconds, based on this your 100% interior of your pool will be "swept" in about an hour as long as the pool filtration is operating.
Superior Circulation System for Sanitation and Heating
Proper circulation is key to a clean, healthy swimming pool. A&A Infloor offers Total Circulation that distributes sanitized, heated and filtered water throughout the entire pool. This helps eliminate the potential "dead spots" that can cause algae growth, while effectively reducing chemical usage and increasing savings $. Whether heated with gas, propane, electric, or by the natural rays of the sun, A&A's Total Circulation automatically disperses the heated water at the bottom of the pool, where it is the most energy efficient, to evenly warm your pool and eliminate uncomfortable cold layering. It saves you on the cost of heating, up to 50%, and helps extend your swimming season and your fun!
Individually Factory Designed Specifically for Your Pool
Cleaning heads are strategically placed by A&A factory personnel for your individual pool. They are placed so that the entire pool area will be addressed with overlapping jet streams of filtered, sanitized water.
Benefits of A&A Infloor Cleaning System
• Automatic patented cleaning & circulating system
• Virtually invisible
• No unsightly robots or hoses
• Efficient chemical & heat distribution to reduce monthly operating costs
• Systems available for concrete
Contact Us
If you have questions about your new Backyard Project, or would like to schedule a no obligation, one-on-one consultation with one of our designers, please call us at (602) 569-6336 or fill out the webform below.
OUR WORK
Some Of Our Projects
ECO-Smart Pool Packages From Dolphin Pools
Love spending time in the great outdoors, but want a swimming pool that is not only beautiful but eco-friendly? With recent innovations in pool technology, we have created two "green" packages that will not only look beautiful but save you money. We are your go to for Arizona pool companies.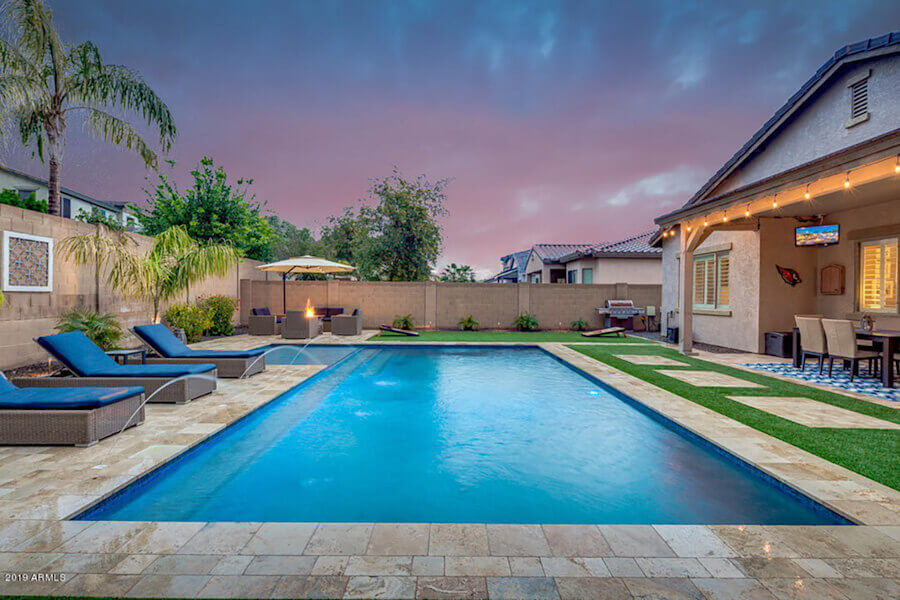 Schedule Your Free Consultation with a Dolphin Pool Designer
If you would like to schedule a consultation with a member of our expert pool design team, or if you would like more information regarding new pool construction, water features or outdoor living spaces from Dolphin Pools, please feel free to contact us directly by calling (602) 569-6336, or complete the form below.
Showroom Hours: Monday-Saturday 9am - 5pm
Dolphin Pools
20635 N Cave Creek Rd, #A3
Phoenix, AZ 85024