Dolphin Pools Warranty

Lifetime Structural Warranty
Dolphin Pools warrants the swimming pool shell to remain structurally sound for the period of time the pool is owned by the original Buyer. The term "structurally sound" is defined as, the swimming pool is capable of containing and retaining water without water loss due to a crack in the concrete structure of the pool. Any failure of the shell to retain water shall be repaired so that it will hold water at no charge to the original Buyer. This lifetime structural warranty to the original Buyer does not extend to cover items external to the pool shell for example, interiors, tile, equipment, decking, plumbing, electrical.
Lifetime Cleaning Warranty
The Paramount advanced PVR In-floor Select Clean & Circulation System is a limited lifetime warranty to the original Buyer.
3 Year Hayward Equipment Warranty
Dolphin Pools assigns to the original Buyer "Hayward Pool Products" warranty covering pumps, filters, heaters and electronic controls excluding maintenance items. Pursuant to the terms, this manufacturers warranty will cover all Hayward equipment installed with your pool for a full 3 years from the pool start up date.
2 Year Limited Warranty
All of the labor and materials used in the construction of Buyer's swimming pool are warranted to the original Buyer to be free of defect for two (2) years from the date the pool is plastered according to the Register of Contractors standards.
Limitations and Conditions
Defects or failures caused due to lack of proper maintenance, operations, vandalism, or accurate water chemistry are not covered. Damage or failures caused by surface or subterranean drainage under or around pool or earth fill movement, explosions, and expansive soil conditions are not covered. The swimming pool should be kept full of water at all times and will be used in a normal and reasonable manner and shall be operated in accordance with all contractor and manufacturers policies and instructions in their manuals.
(See Contract for detailed warranty and limitations)
Dolphin Pools has served the Valley of the Sun for over 39 years. Established in 1984, family owned and operated, our commitment to provide exemplary customer service and build superior quality pools and spas has never wavered.
Dolphin Pools combines the best products, materials and equipment to insure the highest quality built pools and spas in the industry. From the projects inception to its completion, we pride ourselves in having the most experienced, resourceful, imaginative and professional team that will design the project to fit your unique lifestyle.
Over the years, our integrity, quality, and customer satisfaction has set us apart from our competitors.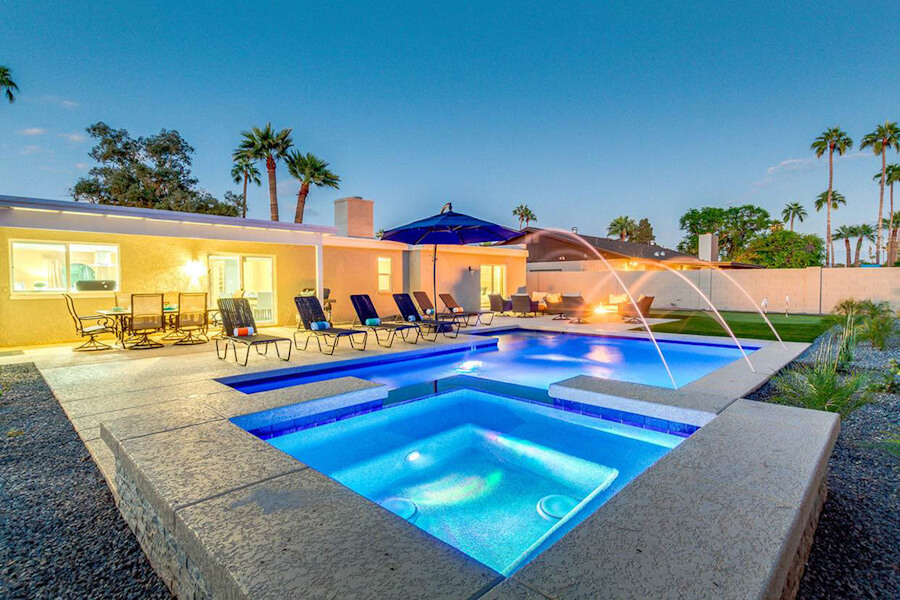 ECO-Smart Pool Packages From Dolphin Pools
Love spending time in the great outdoors, but want a swimming pool that is not only beautiful but eco-friendly? With recent innovations in pool technology, we have created two "green" packages that will not only look beautiful but save you money. We are your go-to for Arizona pool companies.